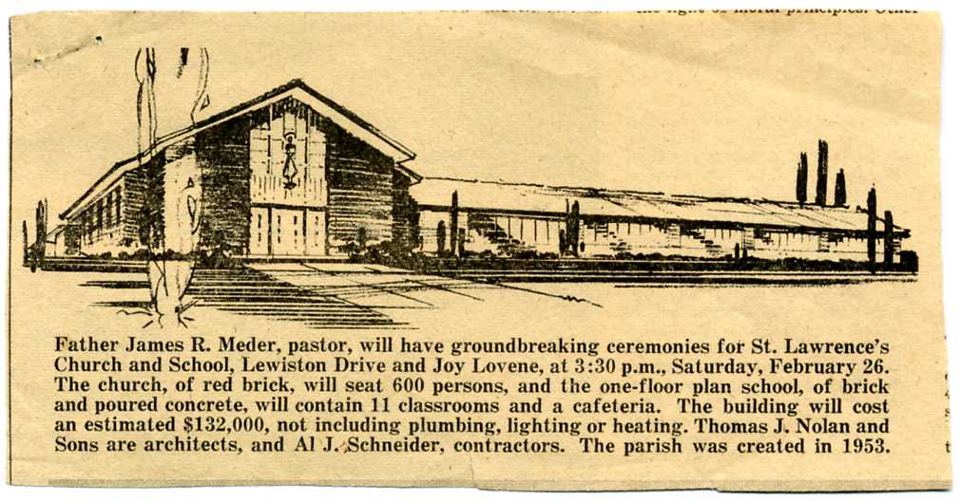 On September 3, 1953, Saint Lawrence parish was established by the Most Reverend John A. Floersh, the Archbishop of Louisville. The boundaries of Saint Lawrence were previously part of Saint Helen parish.
An informational meeting about the new parish was held on November 11, 1953, and those in attendance became the forty-five (45), founding families.  By the time of the groundbreaking on February 26, 1955, at 3:30 pm, the parish had grown from the original 45 families to 420 families. For our first two years, our Sunday Mass was celebrated in Alice Waller Elementary School on Dixie Highway.  Reverend James R. Meder, the founding Pastor was named by Archbishop Floersh.  Enclosed in the cornerstone is a list of the founding families names, a copy of the May 21-23, 1955 Record, a copy of the Courier Journal, a medal of St. Dominic, a 1922 Silver Dollar and a copy of the Saint Lawrence Bulletin for May 22, 1955.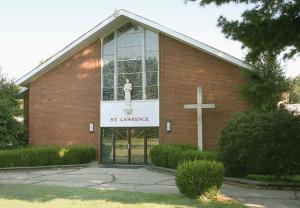 The original school building was attached to the Church, and at the time cost $132,000. Later that year, parishioners who donated their labor and skills build the Rectory. In 1956 Saint Lawrence finally had a Convent built at the cost of $40,000. On December 8, 1956 Sister Mary Auxilium, the first principal and three other Sisters of Charity of Nazareth, Sr. Sara Cecilia, Sr. Mary Lucy and Sr. Marie McCarty moved into the convent. Previously the Sisters lived at Most Blessed Sacrament Convent.
Saint Lawrence School was dedicated on May 23, 1955. In the beginning, eleven classrooms were built to house 400 students. In September of 1955, the school opened with 250 students, grades 1-6. In 1956, the "T" addition of the building was added to make six more classrooms. In 1959, the enrollment of the Saint Lawrence School was up to 937 students.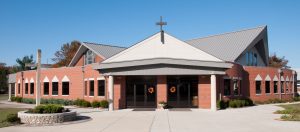 The first recorded Baptism was Margaret Mary Adkins, November 29, 1953, daughter of Frances and Walter Adkins. The first baptism in Saint Lawrence Church was Lawrence Wheatley, son of Rose Marie and James Wheatley. The first recorded marriage was Kenneth J. Shaftlein and Alma R. Heckman. The first marriage in the Church was November 24, 1955 between James Hedded and Rose A. Rohleder. The first funeral recorded was a day old child, Mary Emily Bonner on January 14, 1954, daughter of Wanda and Robert Bonner. The first funeral from Saint Lawrence church was Walter Adkins on February 14, 1955.
Saint Lawrence parish has continued to grow through the years. There are currently 832 families (2, 433 parishioners) registered in the parish. The original buildings still remain, though additions have been made to compensate for the growth rate of the community. The Rectory, once the home of the residing Pastor and Associate Pastors was renovated in 2004 and is now home to the parish offices and meeting space for various committees. The parish convent is now home to the Saint Lawrence Child Enrichment Center. Saint Lawrence Pre-K and before/after school care programs make use of this building also.
Joey Carter Sports Complex has been expanded for use not only for ball games but also for community enjoyment. This field has been used for Friday night softball, sand volleyball and other sports for the parish in the summer. An additional Field House with Locker Rooms and Restrooms was added in 2010.
Saint Lawrence Parish Hall, built in 1987, has since been renovated. A garage, a Youth Room, an Art Room, Music Room and two extra classroom spaces were added to better accommodate the needs of parish and school. In 1998 another addition was added to the existing school building. This addition allowed the school to have a beautiful new library, State-of-the-Art Computer Room and two more classrooms. The Community Room was also added to further encourage community involvement. For example, the Senior Citizens group gather here to play cards on Wednesdays and Bereavement Luncheons are provided to families after the funeral of their loved one, RCIA meets here weekly to explore the mysteries of the Catholic faith and the room is also available for rental for parishioners celebrating birthdays, anniversaries, graduations or the birth of a child.
In 2004 Notre Dame Academy was born. St. Denis, St. Helen and Saint Lawrence churches came together to form a covenant to ensure that the children in this area have an opportunity for Catholic Education for years to come. The current enrollment for 2015-2016 school year is 430 students and is housed in the former Saint Lawrence School property at 1927 Lewiston Drive. If we add our Pre-K program the attendance is 489.
On October 26, 2006 we broke ground to build a new house for our pastor. Work on the project began that afternoon and was completed in late December 2006.
On May 30, 2010, Saint Lawrence parishioners gathered once again to re-dedicate our church after an extensive renovation under the leadership of Fr. Jeff Shooner. The present church is a beautiful work of labor and love. Many hours of dedication to detail and assuring that our worship space met the criteria for "Built of Living Stones," a liturgical document for the renovated spaces of churches. We are very proud of our new church and it continues to be a warm and welcoming haven for all who want to come and worship with us here at Saint Lawrence.
Following Fr. Shooner's leadership, our pastors have been: Fr. Terry Langford, Fr. Tony Smith and presently Fr. Bill Burks.
This is our history. We are proud of how far we have come and continue to plan for the future as a vibrant, welcoming parish. You are always welcome to come and join us!