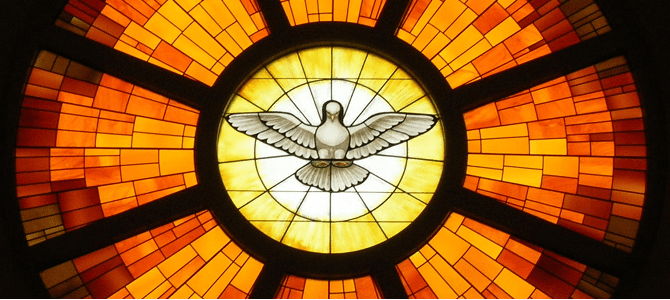 Receive the Holy Spirit
In Confirmation, Christians receive a special outpouring of the Holy Spirit and deepening of baptismal graces needed to grow as mature disciples of Christ in the life of the Church. Confirmation is one of the three sacraments of initiation into the Catholic Church, the other two being Baptism and First Holy Communion.
Confirmation Journey
Confirmation for students at St. Lawrence is a journey. It's your chance to say YES to God, YES to faith, and YES to the church. We want to help you build relationships that help you know whether you want to make that choice at this critical point in your life. At St. Lawrence, here are the steps you will take on your Confirmation Journey:
Attend Retreat – Holy Fire Conference
One requirement for confirmation is for students to attend a retreat.
Holy Fire presented by the National Federation for Catholic Youth Ministry (NFCYM) and the Archdiocese of Nashville, TN is for young people in grades 6-8 and is a one-day experience of dynamic speakers, music, and the sacrament of the Eucharist, like they have never before experienced. At Holy Fire, young people will be invited and challenged to embrace their baptismal call and embrace the relevant and powerful gospel of Jesus. This is a one-day trip by bus and includes lunch at the conference.
Permission Slip for Holy Fire can be downloaded below:
Ask your Sponsor & SPARK Night
We ask you to choose a sponsor to be a part of your journey. A Sponsor is like a spiritual coach, someone who lives our faith and can share their experience with you. Pick someone you admire for their faith and who can help you grow closer to Christ.
SPARK night is where all the teens and their sponsors gather at St. Lawrence to eat, pray, talk, and grow together. We have Mass together and then move to the community room for a meal and speaker.
Select a Saint Name
Do some research on Saints in the church. Look into their interests and causes and find some that interest you or pertain to you. Your saint name will serve both as your inspiration for being a member of the church and your name when you receive the Sacrament.
Perform Acts of Service
At St. Lawrence, we ask you to experience your service rather than count hours. Service can be done in three categories, service to our church, service to your family, and service to the community. A list of organizations for service can be found at the link below. Also, check our Youth Ministry Facebook page for announcements about service trips to Franciscan Soup Kitchen or other organizations. We hope that once you begin serving, you'll want to continue serving, that is our call as Christians–to love and serve others.
If you do service at an organization, you can download the Confirmation Service Completion Form below and print it out for someone at the organization to sign for you.
Write a letter to the Bishop.
It is customary across the globe for each Confirmation candidate to write a personal letter to their Bishop requesting the Sacrament of Confirmation. The letter is to introduce yourself and to explain your Confirmation preparation experience.
Confirmation Mass
The time has come! The day to officially be a confirmed member of the Church. Our Confirmation Mass will most likely be at the Cathedral downtown and celebrated by the Arch Bishop along with our pastor and other confirmation staff.
Forms
Please find below: digital and downloadable forms that you can fill out and submit to the parish office or send to school with your child and give to the religion teacher.
If you have any questions please do not hesitate to ask.
Mike Raymer
Director of Youth Ministry/ Confirmation Coordinator
Office: 502-448-2122, EXT 231
or email