St Vincent de Paul

What we do?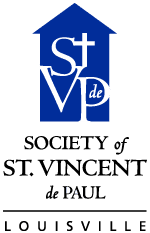 Help for the Poor. Hope for Their Future
Helping people who are poor or homeless rise above their circumstances is at the core of St. Vincent de Paul's mission. One of the oldest social service charities in Louisville, St. Vincent de Paul is located in the economically challenged Smoketown/Shelby Park neighborhood. Through our homeless shelters, supportive housing programs and professional case management services, we provide compassion and hope for people struggling to overcome barriers to self-sufficiency.
We also address the most basic human needs of the homeless and the ever-growing ranks of the "working poor." For example, our Open Hand Kitchen offers two free meals a day, 365 days a year, to anyone in need. This valued community resource serves about 250 meals each day–about 90,000 meals per year–to hungry men, women and children.